HOLYKELL NEW ARRIVAL Refrigeration Pressure Sensor
September 08, 2022
As what we committed that every month, a new arrival will be launched by Holykell. In September, the new arrival is the refrigeration pressure sensor HPT300-C3.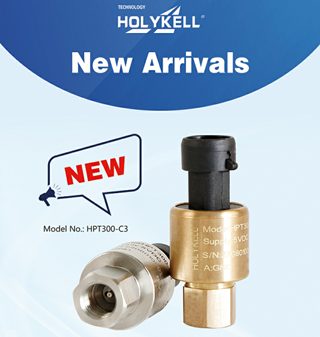 This new refrigeration pressure sensor features precise measurement with a cost-effective price. Its size is compact. By using ceramic capacitive sensitive components, it measures absolute pressure and sealed gauge pressure. Ceramic capacitor core features strong anti-corrosion and signal interference resistance, and can work over broad operating temperature range, -35°C to 105°C. Thus the temperature drift is small and the reliability is good. Since it works in refrigeration applications, the sealing matters. Any leakage will cause safety and inaccuracy problems. This sensor is IP66 rated, with unique conformal coating applied, it has strong moisture-proof and can resist condensation that is common in such applications.
It is especially designed for HVAC and HVACR systems, for example, VRF, Air conditioning refrigeration unit, air source heat pumps, compressors.