Wireless Pressure Sensor for Water Pipe Detection
March 24, 2023
Does your building management plan hold water? It's 2:00 a.m. on a cold, wintry night. All including your property managers are fast asleep. They're missing the bulging water pipes, a large amount of pressure building up in the water pipes. A few minutes later, the water pipes just burst out. Water erupts and rises quickly on the building floor and anywhere.
Prevent Pipe Bursts by Wireless Pressure Sensor Before They're a Problem.
Luckily we may not have to experience this nightmare in real life. Since we can install wireless pressure sensors. There's no need to worry about water damage because they act as the best remote pressure monitor.
How Does a Wireless Pressure Sensor Work
A wireless pressure sensor is a smart product that adopts the most advanced sensor technology and IoT network. It can accurately detect the pressure of water pipes and transmits the data to the free cloud platform where users can access to the data at any time from a PC or a mobile phone. More than 110,000 pieces of historical data can be stored, it also supports USB setting, data export, sensor value correction, and platform remote setting... More functions are waiting for your unlocking.
By presetting the upper and lower limit in the system, once the pressure of the water pipe exceeds, the system instantly sends an alert via a text or the Wechat APP to report to the users. So you can take measures promptly and prevent accidents before they are a problem.
Product Features
GPRS/3G/4G/5G/LoRa/LoRaWAN/NB-IoT supported for global use
A 3.14"" full LCD display for local value reading
Long range wireless connectivity Real-time remote monitoring via a computer or a mobile phone
Connection of gateway and other devices supported
Custom alerts and alarms for full visibility of your system status
Low power consumption design, up to 5 years of battery life
Automatic water supply control with additional valves and devices
Explosion-proof environment capable
IP68 rated without water ingress concern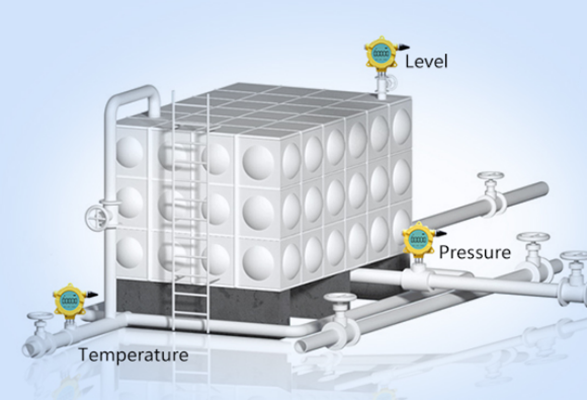 Pressure Detection Solutions for Piping Systems
This intelligent wireless pressure gauge is common in fire water system, tap water supply pipe network, gas and fire pipe network, drainage pipe network, air conditioning water cooling system and other fields.
Why Choose Holykell?
●Founded in 2001, Holykell has over 20 years experience in measuring instrument. We are a leading manufacturer in sensor R&D and production in China.
●Our mature R&D center enables continuous development and upgrading of different sensor types. We can provide customization service.
●Our sensors can be used globally as they support international frequencies, signal outputs, electrical connections and power supply. As far as 2022, our products have been used in 175 countries.
●Full support of installation, use and maintenance documents & videos, and 1:1 engineer's instruction are available.
●For any after sales issues, you can get fast response within 12h and satisfactory results.