Wireless Pressure Sensors for Water-saving Irrigation
November 07, 2022
With the wide application of information communication technology and sensing technology in the field of agricultural production, the agricultural irrigation has been developed. Using wireless pressure sensor and automatic data monitoring technology, we can realize real-time monitoring of water consumption and irrigation in agriculture, and then realize dynamic control and management of the entire agricultural irrigation process.
The wireless sensor network consists of remote pressure sensor, remote level sensor, wireless modules, soil sensors, control valves and etc. It can form an automatic irrigation system to sense soil moisture, detect the water level in tanks/pool, and water pipeline pressure, and communicates with the receiver under set conditions to control the opening and closing of the valve of the irrigation system, so as to achieve the purpose of automatic water-saving irrigation.
The number and type of sensor nodes are not limited, the irrigation group can be flexibly increased or decreased. And the data collected can be transmitted to the Cloud platform where the related staff can access for data view, data save and data analysis.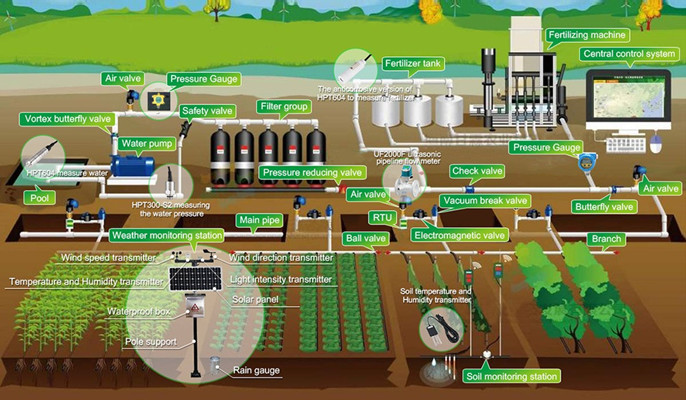 Advantages of wireless intelligent irrigation system
1. Stable transmission signal, real-time monitoring
2. Safe and water & energy-saving
3. Automation with less employees required
4. Flexible and stable
The wireless sensor network is common in areas such as greenhouses, courtyards, gardens, farmlands... and promotes the rapid and healthy development of water-saving agriculture.