HSF Electronic Fuel Meter
Electronic fuel meter is designed to monitor the oil volume of the nozzle (refueling tank). It's shell is made of pure aluminum and is equipped with an LCD display. The flow meter has been calibrated for gasoline, diesel and kerosene at the factory( flow rates from 3 to 30 GPM).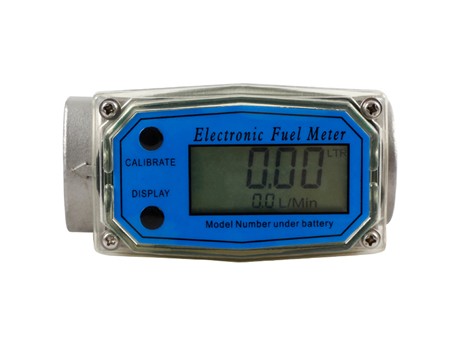 Application :
●Gas station
●Fuel truck nozzle
●Refinery
●oilfield exploitation
●Diesel and kerosene flow monitoring
Advantages
01The all-aluminum shell is not corroded by wind and rain, and is strong and durable.
02Flow rates are optimized for gas, diesel and kerosene without on-site calibration.
03Digital turbine flowmeter (flow rate 3-30GPM), the measurement result is more accurate.
04Equipped with a non-reflective LCD display, easy to read.
Resources
Technical Data
Product name

Electronic turbine flow meter

Applicable medium

Diesel, gasoline, none, methanol, water, etc.

Product material

Stainless steel, aluminum alloy

Connection method

Threaded connection

Model

HSF-25

HSF-40

HSF-60

Minimum flow

10L/min

40L/min

60L/min

Maximum flow

100L/min

280L/min

500L/min

Measurement accuracy

1%

1%

1%

Working pressure

6bar

6bar

6bar

Single counting range

9999.9

9999.9

9999.9

Accumulative counting range

999999

999999

999999

Weight

0.35kg

0.6kg

0.85kg
Related Products
Inquiry
Please complete form below to request a quote for Flow meters.