HUF Handheld Ultrasonic Water Flowmeter
HUF2000 Handheld ultrasonic flowmeter advanced circuit design, the integration of the latest semiconductors, the user-friendly software interface both in English and Chinese languages and small-sized PCB board.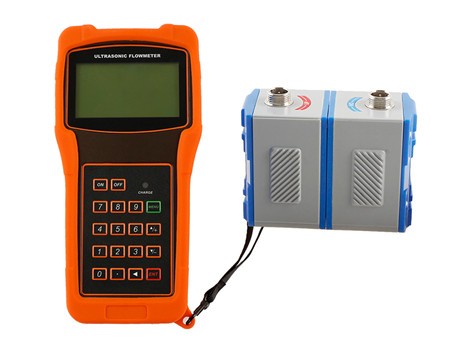 Application :
● Water supply
● Sewage treatment
● Sea water desalination
● Pure water
● Ultra-pure water
● Industrial circulating water
● Diesel fuel, oil flow metering, etc
Advantages
01High accuracy: Linearity: 0.5%, repeatability:0.2%, accuracy up to ±1%.
02Non-contacting measuring: The ultrasonic flow meter will be adsorbed on the outside of pipe, and then finish the measuring. Non-intrusive, clamp-on transducer, no pressure drop, no pipe disturbance.
03Wide measuring range: Several types transducer for selection, pipe size from DN15mm to DN6000mm
04
Large capacity battery: Built-in rechargeable Ni-MH rechargeable battery, provide over 20 hours of continuous operation.
Resources
Technical Data
Pipe Size

20-6000mm

Flow range

0~±32m/s

Working temp

-20°C~+160°C

Communication Interface

RS-232, baud-rate: from 75 to 57600.

Supply voltage

3 AAA built-in Ni-H batteries

Linearity

0.50%

Repeatability

0.20%

Accuracy

±1%

Powerful Recording Function,last 64 days/64 months

5 years LCD display ,LED indicator ,4x4+2 push button keypad
Related Products
Inquiry
Please complete form below to request a quote for Flow meters.