Hoykell Wireless Monitoring Solutions
October 11, 2021
A sir from a German engineering company wrote to us to seek for wireless monitoring solutions for his sensorized application. He would also like to investigate with us for the feasibility of some custom products.
Our wireless monitoring solutions are divided into two. One adopts our non-wireless sensors (or flow meters) with the wireless modules to realize the wireless transmission. The other is adopting our wireless sensors directly, including wireless pressure sensor/ level sensor/ temperature sensor. As he wishes, these three sensors are battery-fed(external power supply is also supported). His application requires all the sensors communicating with a central unit in a wireless mode. This is perfectly met since by using our wireless sensors, the data collected will be transmitted to our or customer's cloud platform where we can view the data, setting related parameters via a PLC or a mobile phone. Alarms can be set and sent to users via WeChat massages or a mobile phone. And historical data can be viewed and downloaded.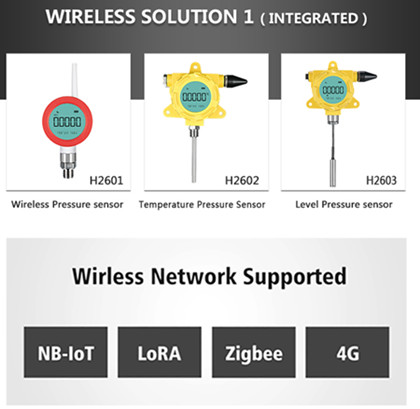 As he asked, the wireless sensors for the wireless monitoring solutions have no MOQ limit. For more information and service, contact us to discuss more deeply.