What Are the Benefits of Sputtered Thin Film Hydraulic Pressure Sensors
Aug 11 , 2023
Sputtered thin film hydraulic pressure sensor is a highly stable sensor developed from the integration of thin film technology and semiconductor technology in the past 20 years. Its pressure-sensitive core is formed by depositing insulating and sensitive films on high-strength corrosion-resistant stainless steel by ion beam sputtered film-forming equipment, therefore, it has the following characteristics:
1. The sputtered thin film hydraulic pressure sensor has good long-term stability, wide working temperature, high precision and good repeatability. And it has wide temperature range, typically -40℃ …125℃, and -55…150℃ by customized. It can work under high temperature and high pressure for a long time.
2. It is resistant to strong vibration, impact, and corrosion, no leaks.
3. This kind of sensor has good temperature characteristics and the temperature drift is small.
4. Sputtered thin film hydraulic pressure sensors measure accurately with high frequency response since the pressure directly acts on the corrosion-resistant stainless steel sensitive core, without isolation diaphragm and filling liquid.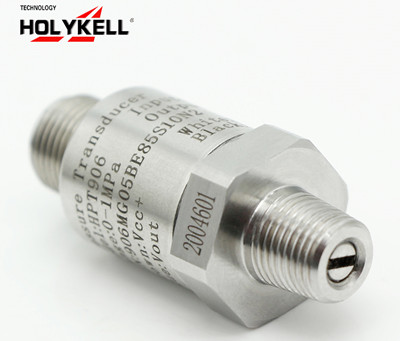 Since hydraulic pressure sensors are often used in heavy equipment, for example fork, lifting equipment, hydraulic system and other heavy equipment, due to this special working condition, the sensors must be competent enough to bear the responsibility. Holykell HPT906 is a heavy duty hydraulic pressure sensor designed and developed specially for such applications. You can always trust Holykell.