What We Benefit from Flush Diaphragm Pressure Sensors?
Aug 11 , 2023
In food, beverage and pharmaceutical industry, there are special requirements not only for the manufacturing process, but also the manufacturing instrument. For example, to measure the pressure or level, sanitary sensors are required.
Flush diaphragm pressure sensor is a kind of sanitary sensor which is especially suitable for fluid pressure and liquid level measurement which has sanitary requirements, since they can solve such problems as scaling, clogging and cleaning, and prevent secondary contamination. Besides, it supports CIP without disassembling it.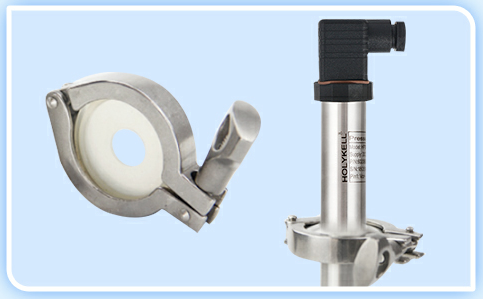 Product Features
316L stainless steel housing
Imported diffusion silicon core, accuracy better than 0.5%
Small temperature drift, good stability
Imported Hirschmann connector, better waterproof and sealing performance
Heat dissipation ring design, excellent performance in high temperature application
One-piece large diaphragm, no exposure to pollutants
Anti-surge and lightning protection
Easy to install by clamp, vibration and shock resistant
With the use of flush diaphragm pressure sensors, we can easily meet the sanitary demands and standard. And we have developed a version, fake flat film pressure sensor, dedicated for soy sauce measurement. Customization service is available here in Holykell.