Deep well level sensor used in deep well measure
March 13, 2020
Groundwater is our main source of water for human production and living. In many places, due to the special geological structure of the Custer landform, there is no stable source of surface water, and the problem of water use has always plagued them. Therefore, strengthening the monitoring of deep wells can guide the rational use of ground water.
Ordinary deep well level sensors will encounter some challenging problems when measuring. First, wells are often in remote areas where power is not available. Furthermore, some wells measuring range are meters to hundreds meters . Finally, the deep well water is not as pure as domestic water, and it contains some impurities. This eliminates many sensor choices.
Holykell has specially developed a deep well level sensor specifically for deep well level measurement which effectively solve the difficulties. It adopts fluidics design, strong impact resistance and small size, only 19mm in diameter, which can be applied to drilling of small caliber. It supports low-voltage power supply, and can be used normally in areas with undeveloped power equipment. In view of the properties of the deep well water, the sensor material has certain anti-corrosion performance. The choice of high-quality polyethylene gas conducting cables and stainless steel materials can prevent the sensor from being corroded by drilling fluid. At the same time, for a large number of deep wells, we can provide special customized services to meet the needs of various ranges, which ordinary water level sensors can not achieve.
Placed deep well level sensor at the bottom of the well, and the liquid level can be calculated by measuring the pressure that the deep-well fluid applied. It achieves measuring as following: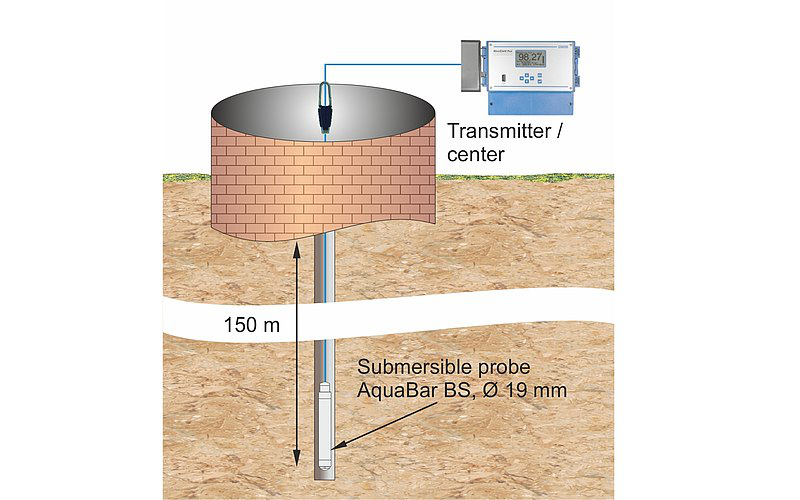 Want to know more about the sensor issues? Please contact us immediately. Our engineers will provide you with the perfect measurement solutions!