HPT675S Remote Water Level Data Logger
Remote water level data logger is a self-dissolving data logger. Based on a titanium alloy casing and a lithium battery power supply design, it can be immersed in liquid for more than 10 years for a long time. The built-in temperature sensor can be used to monitor the depth, pressure and temperature of groundwater.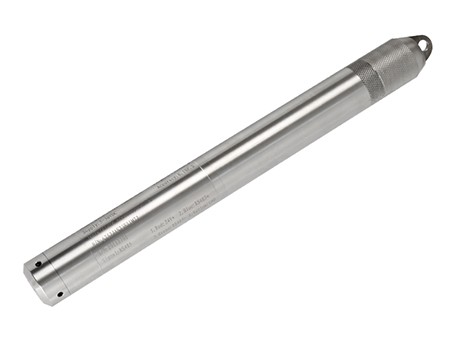 Application :
●Groundwater or surface water level monitoring
●Marine Environmental Engineering Project
●Flood control system or flood control level monitoring
●Real-time monitoring of the liquid level in the tank
●Industrial control system and on-site liquid level monitoring
Advantages
01Self-dissolving structure, without the trouble of cable entanglement.
02Monitor liquid level, pressure and temperature data at the same time.
03Titanium alloy shell sealing structure can be used for corrosive medium.
04Full range digital calibration, temperature error compensation in the whole temperature zone.
05RS485 interface MODBUS-RTU standard communication protocol can be used in DCS or PLC system.
06Measurement accuracy is up to 0.05% FS and low-power lithium battery power technology.
Resources
Technical Data
| | |
| --- | --- |
| Model | HPT675S |
| Pressure Range | 0~10m H₂O…0~200m H₂O |
| Level Accuracy | 0.05%F.S(0~50℃) |
| Level resolution | 1mm |
| TEMP. accuracy | ±0.5℃ |
| TEMP. resolution | 0.1℃ |
| Stability | 0.05%F.S/year |
| Operating temperature | -10~80℃ |
| Temp. compensation range | 0~50℃ |
| Supply voltage | External voltage:DC5~30V(typical 24V); Internal battery: 2.7~3.6VDC |
| Power protection | Protection against reverse connection,and against 2KV surge and over voltage |
| Output | RS485 / MODBUS-RTU protocol, through the reader to download data to the computer |
| Measuring medium | Compatible with 316L stainless steel and fluororubber |
| Protection class | IP68 |
Related Products
Inquiry
Please complete form below to request a quote for Level Datelogger.