Intelligent Wireless Temperature Sensor Used in Urban Heating
Aug 07, 2023
NB-IOT smart wireless type temperature sensors can be used in urban heating applications and can successfully solve the problem of heat distribution. When cold winter comes, uneven urban heat distribution occurs, resulting in heat waste and insufficient supply. The difficulty of terminal data collection is too high, and the current devices or systems are unable to effectively detect the temperature of the pipe wall, the pressure of the pipe, and the temperature and humidity in the user's room, etc.
Holykell wireless temperature monitoring system can solve these problems.
The remote temperature monitoring system has a temperature sensor with high precision. At the same time, it has a LCD display, which can clearly and intuitively see the real-time data collected. The detection terminal is a product based on the narrowband Internet of Things network. The NB-IOT network has strong signal and low power consumption, and the wireless transmission is based on the public network and has a wide coverage. The collected data can be transmitted to Holykell or customer's IoT cloud platform, and the data can be viewed on computers and mobile phones.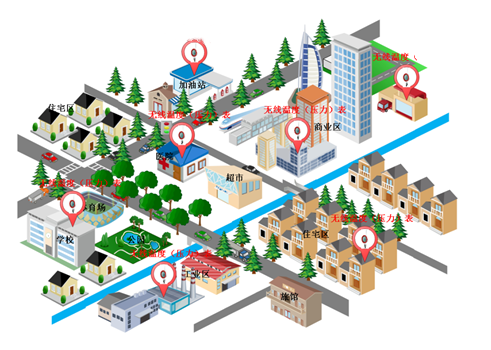 When the temperature data is abnormal, the wireless temperature sensor with alerts will immediately send out alarm through WeChat, SMS, telephone, so the staff can take immediate measures to solve the problem. In addition, this sensor is powered by a built-in lithium battery, which can work for more than five years, which solves the trouble and worry of frequent battery change.In the wireless temperature sensor application, smart wireless pressure sensor can be also used. Both have own historical data storage function, and support continuous transmission of historical data.
In addition, the wireless temperature sensor can meet the requirements of harsh working conditions such as moisture-proof, waterproof, explosion-proof, dust-proof, and anti-immersion. It is suitable for the working environment of the urban heating projects.