HPT200-G Pressure Sensor With Display
HPT200-G pressure transducer with display Industrial Pressure Transmitter with high quality piezoresistive pressure sensor, it can read value locally, easy for use.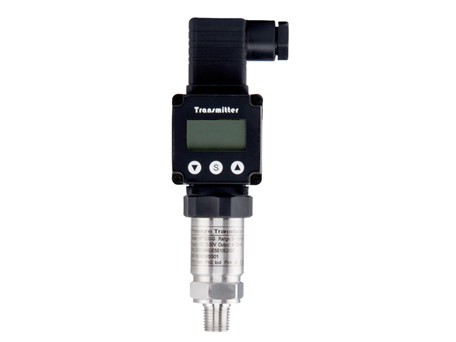 Application :
● Industrial process control
● Biomedical
● Eco Saving
● Energy and water treatment
● Petroleum,Chemical industry
● Metallury
Advantages
01With 4-1/2 bits LED display
02Fully Welded Stainless Steel Housing
03Surge (lightning) protection
04EMI/RFI Protection
05Zero point and span adjustable
Resources
Technical Data
Parameter

HPT200-G

Pressure Range

Gage /Absolute / Negative pressure optional.

Overload

200% F.S.

Burst Pressure

500% F.S.

Accuracy

≤ ±0.5%F.S ≤ ±0.25%F.S ≤ ±0.1%F.S (by customize)

(Linearity Hysteresis

Including non-lin., rep. and hys.

Repeatability)

Optional

Long Stability

0.1%F.S/Year

Working Temp

-40℃~85℃/150℃ optional

Compensation Temp

0℃....50℃(P≤35KPa) or -10℃...70℃(P>35KPa)

Storage Temp

-40℃~105℃

Medium Compatible

Compatible with 316L Stainless Steel

Electronic Wire

2 Wires 3 Wires

Output

4~20mA 0~5V,1~5V

Power Supply

12~30Vdc 12~30Vdc

Insulate resistance

>100M Ω @100V

Zero Temp. Drift

0.02%FS/℃(≤35kPa), 0.01%FS/℃(>35kPa)

FS Temp. Drift

0.03%FS/℃(≤35kPa), 0.02%FS/℃(>35kPa)

Local display

4 -1/2 bits LED/LCD local display

LED indicator Specification

Dimension: 43*38*17.5 mm; Non-linear: ±0.02%F.S.; Display scope: -9999 to +9999

Sampling rate 10 times / sec.; Working temp range: -30 to +80℃

Overload display 'ERR'; Backlight suitable for dark environment application.

Electronic connection

DIN Hirschmann Terminal Box 4 Pins and IP65.

Mechanical vibration

±20g

Pressure connect port

1/4"NPT male 1/2"NPT Female G1/2"; G1/4"male optional. (By Customized)

IP rating

IP65

Response time

≤10ms
Order information
Pressure range : 0-50 bar , Output : 4-20mA , Power supply : 12~36VDC ,
Process connection : 1/4"NPT male , Electronic Connector : Hirchaman connector .
Related Products
Inquiry
Please complete form below to request a quote for Pressure Sensors.