HPT603 Submersible Liquid Level Transducer With Thread or Flange Interface
HPT603 submersible liquid level transducer is mainly used for liquid depth measurement. Due to different measuring environment, it is divided into threaded interface and flange interface.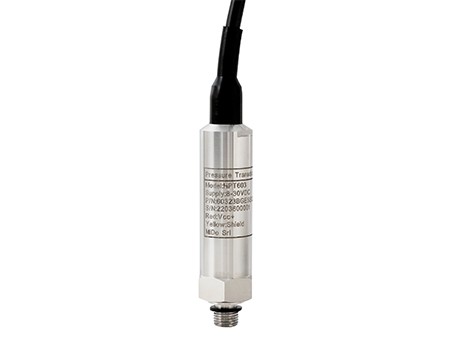 Application :
●Vessel and Storage Monitor System
●Control of Lift and Pumping Stations
●Level Measurement in Oil Tanks
●Monitoring of Gasoline & Diesel Fuel Tanks
Advantages
01Customizable installation thread or flange interface
02Fully sealed 316SS stainless steel housing and 316L flat film design
031/2 bits LED/LCD Screen Locally Display optional
04IP68 full sealed plastic waterproof design
05High accuracy TE pressure core with 0.25%FS
Resources
Technical Data
Range

0-0.5 M…500 M H2O optional

Output

4~20mA,1~5V/0~5V/0~10V/0.5~4.5V,mV Signal,RS485

Power supply

7~30Vdc,8~30Vdc,15~30VDC,5Vdc...

Pressure port

G1/2''male, M20*1.5 male, 1/4''NPT male;

M10*1 male,flange mounting, or by customized

Accuracy

0.5%F.S standard, 0.25%F.S by customized

Working temperature

-30°C~+70°C

Temp Compensation

0°C~50°C or by Customized

Zero Temp. Drift

0.05%FS/°C(≤100kPa); 0.04%FS/°C(>100kPa)

FS Temp. Drift

0.05%FS/°C(≤100kPa); 0.04%FS/°C(>100kPa)

IP Rating

IP68

Response time

≤10 ms

Cable optional

PE Cable( Water Proof ); PUR Cable( Oil Proof ); FEP Cable( Anti-Corrosive )

Certificate

CE,ExiaII CT6 Ga ,ATEX,RoHS
Order information
Level range: 0-5m Output: 4-20mA Power supply: 12~36VDC
Related Products
Inquiry
Please complete form below to request a quote for Level sensors.