Fuel Level Sensor With Submersible Type For Fuel Tank In Model HPT604-LT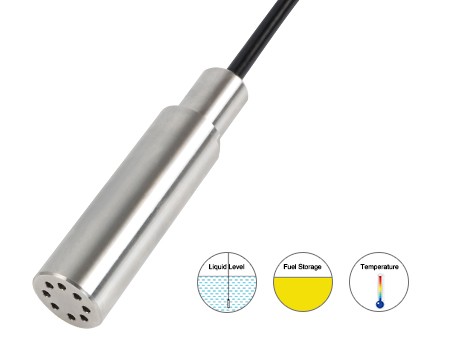 Application :
●Fuel tank or diesel tank
●Underground oil storage tank at gas station
●Diesel generators
●Refinery
●Irregular shape oil tank
Advantages
01It can measure the liquid level, volume, oil storage and oil temperature of the oil tank.
02Compatible to measure the level of fuel tanks with different shapes.
03The problem of temperature drift and poor accuracy in the full temperature range is solved.
04"Investment type" design, low maintenance cost in later period.
05Free technical support, liquid level sensor manufacturer.
Resources
Technical Data
Parameter

HPT604 (LT Type)

Pressure Range

0-0.1Bar…..5 Bar / 0-1M……..50m H2O Optional (See P1 page description)

Overload

200% F.S.

Burst Pressure

400% F.S.

Accuracy:

≤ ±0.5%F.S (≥2m level range and between0-50 degree C);

≤ ±1.0%F.S (0.5m≤Level Range<2m level range and between0-50 degree C)

(Linearity Hysteresis

Including non-lin., rep. and hys.

Repeatability)

Optional

Long Stability

≤ ±0.2 % of span/year

Temperature Range

-30 to +70 degree C

Temperature Accuracy

±1%F.S. (± 1 ℃)

Working Temp

-30℃~80℃

Storage Temp

-40℃~85℃

Temperature Compensation

0-50℃ (Range<100kPa); -10℃~60℃(Range≥100kP)

Medium compatible

Compatible with SUS304 Stainless Steel

Electronic Wire

2 Wires 3 wires 4 wires

Output

4~20mA Double 4-20mA Level&Temp RS485 Modbus RTU

Power Supply

10~30 V DC 12~30 Vdc 7~30 Vdc

Overload Voltage

32Vdc 32Vdc 36Vdc

Polarity protection

Available for signal wires or Power wires each other reverse, unavailable signal and power wire reverse!

Insulate resistance

>100M Ω@100V

Zero Temp. Drift

0.75%FS/℃(≤100kPa); 0.5%FS/℃(>100kPa)

FS Temp. Drift

0.75%FS/℃(≤100kPa); 0.5%FS/℃(>100kPa)

Electronic connection

Fixed cable and water proof IP68

Response time

≤200ms

Data overtime interval

≥50ms

Material of Housing

304 Stainless Steel

Material of Cells

316L Stainless Steel

Blind Zone of Probe

5 mm

Pressure Type

Gauge pressure

Certificate approving

ATEX intrinsic safety or ExdIICT6, TUV RoHS and CE Certificate approving

EMC Standard

EN 61326-1:2013; EN 61326-2-3:2013

EN 61000-6-2:2005; EN61000-6-4:2007+A1

Lighting Protection(optional functions)

Air conduction more than 8000V; external sensor more than 4000 Voltage protection.

Cable optional

Cable materials are optional according request, we offer 3 type special cable as follow:

PE Cable(Water Proof); PU Cable(Diesel Proof); FEP Cable(Anti-Corrosive for gasoline)

Weight

Net weight is about 0.35KG, Full Packing weight is about 1.0 KG (Excluding Cable)
Related Products
Inquiry
Please complete form below to request a quote for Level sensors.