HPT604-LT Fuel Level Sensor Submersible Type For Fuel Tank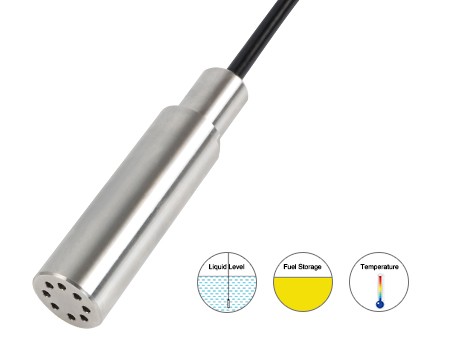 Application :
●Fuel tank or diesel tank
●Underground oil storage tank at gas station
●Diesel generators
●Refinery
●Irregular shape oil tank
Advantages
01It can measure the liquid level, volume, oil storage and oil temperature of the oil tank.
02Compatible to measure the level of fuel tanks with different shapes.
03The problem of temperature drift and poor accuracy in the full temperature range is solved.
04"Investment type" design, low maintenance cost in later period.
05Free technical support, liquid level sensor manufacturer.
Resources
Technical Data
Pressure Range

0-0.1bar…..2bar / 0-1m……..20m fuel level Optional

Burst Pressure

500% F.S.

Accuracy

≤ ±0.5%F.S (≥2m level range and between 0-50 degree C);

≤ ±1.0%F.S (0.5m≤Level Range<2m level range and between 0-50 degree C)

Long Stability

≤ ±0.1% of span/year

Temperature Accuracy

±1%F.S. (± 1 ℃)

Working Temp

-40-80℃(non-corrosive medium)

Temperature Compensation

0-80℃

Output

4-20mA,0-5V,0.5-5V,0-10V,0.5-4.5V,SDI-12,RS485 Modbus RTU

Power Supply

110-30Vdc,12-30Vdc,13-30Vdc,5Vdc±5%,12Vdc,12-30VDC,3.5-36Vdc

Electronic connection

Fixed cable and water proof IP68

Pressure Type

Gauge pressure
Related Products
Inquiry
Please complete form below to request a quote for Level sensors.