HPT604-GT Fuel Level Sensor for Generator Lower Fuel Tanks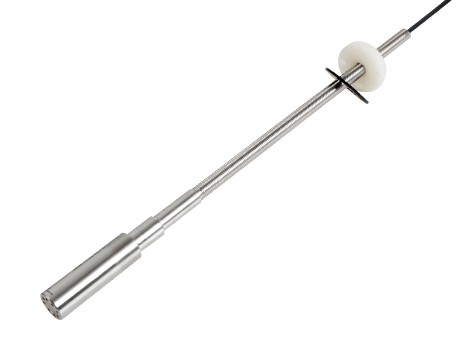 Application :
●Diesel generators
●Fuel tanks or diesel tanks
●Refinery
●Fuel/oil/diesel/petrol level measurement
Advantages
01Stability and accuracy improved with probe and cable fixed.
02Able to measure low fuel level in small or vibrating tanks.
03Suitable for different sizes of tanks.
04Adopt digital signal processing technology for good disturbance immunity.
05Custom service provided for specific applications.
Resources
Technical Data
Parameter

HPT604-GT

Level Range

150…2500mm by customize for RS485 Modbus.

500…2500mm by customize for 4-20mA&0-5V

Accuracy@25degree C

(Linearity/Hysteresis/ Repeatability)

Digital output: ≤±0.25%F.S;

Analog output:

≤±0.25%F.S (2m≤LR≤2.5m);

≤±0.5%F.S (1m≤LR<2m);

≤±1.0%F.S (0.5m≤LR<1m);

Including non-lin., rep. and hys. Optional

Temp Compensation

0℃~50℃

Working Temp

-30℃~70℃

Medium compatible

Compatible with SUS304 Stainless Steel

Output

RS485 Modbus Rtu (4 bits display output data, INT Date and 4 wires);

4-20mA Loop 2 wires; 0-5V 3 wires Optional

Power Supply

10~ 30Vdc

Electronic connection

Fixed cable and water proof IP67

Response time

≤10ms

Pressure Type

Gauge pressure

Water Proof

IP68
Related Products
Inquiry
Please complete form below to request a quote for Level sensors.