HPT701 Air Differential Pressure Sensor
Air Differential Pressure Sensor is precision engineered for monitoring differential pressure of air and compatible gases in commercial and OEM applications and liquids with 0.25% accuracy.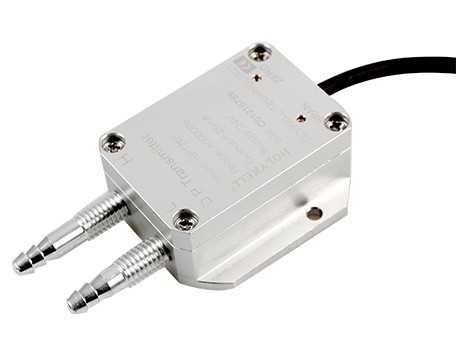 Application :
● HAVC Air differential pressure
● Wind pipe pressure measurement
● Industrial dust removal equipment
● Purification plant
● Blow down expander
● Leak detection device
Advantages
01It has a built-in high-sensitivity air pressure sensing element independently developed by HOLYKELL, which can measure air pressure of 1 pa.
02The sensor comes with digital temperature compensation, which can be used in environments with high and low temperature differential pressure.
03It adopts moisture-proof, waterproof, dust-proof and other technologies, and can be used in bad weather or complex working conditions.
04CE certification.
Resources
Technical Data
Parameter

HPT701

Pressure Range

±100Pa~100KPa optional

Safe overload

200% F.S.

Burst Pressure

500% F.S.

Accuracy

1.0%F.S; 0.5%F.S; 0.25%F.S optional

Long Time Stability

≤0.2%F.S/Year

Working Temp

-40℃~85℃

Storage Temp

-40℃~105℃

Temperature compensation

0℃~50℃

Zero Point Temp Drift

≤±0.03%F.S/℃

Full Scale Temp Drift

≤±0.03%F.S/℃

Max Static Pressure

≤200 kPa

Medium compatible

<5 kPa, non-corrosive gas. ≥5 kPa, compatible with 316L liquids

Electronic Wire

2 Wires 3 Wires 4 Wires

Output

4~20mA 0~5V / 0~10V RS485 Modbus RTU

Power Supply

12~ 30 VDC

Load resistance

R=(U-12.5) / 0.02-RD (RD is cable inner resistance)

Electronic connection

Fixed cable outlet

Materials of diaphragm

Silica gel / 316L

Proof grade

IP66

Pressure connect port

& Materials

Φ8 gas port, M10

SUS304 Stainless steel and LY12

Response time

≤1ms

Adjustment

NA, please select another model HPT702 for adjustable zero and span.

Pressure Type

Differential pressure (Gage pressure)

EMC Standard

Approving

Weight

Around 0.2KG (excluding package)
Related Products
Inquiry
Please complete form below to request a quote for Pressure Sensors.