HPT701 Air Differential Pressure Sensor
Air Differential Pressure Sensor is precision engineered for monitoring differential pressure of air and compatible gases in commercial and OEM applications and liquids with 0.25% accuracy.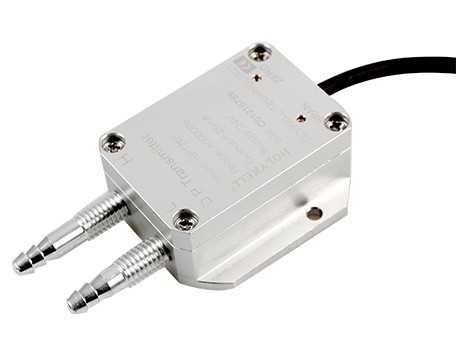 Application :
● HAVC Air differential pressure
● Wind pipe pressure measurement
● Industrial dust removal equipment
● Purification plant
● Blow down expander
● Leak detection device
Advantages
01It has a built-in high-sensitivity air pressure sensing element independently developed by HOLYKELL, which can measure air pressure of 1 pa.
02The sensor comes with digital temperature compensation, which can be used in environments with high and low temperature differential pressure.
03It adopts moisture-proof, waterproof, dust-proof and other technologies, and can be used in bad weather or complex working conditions.
04CE certification.
Resources
Technical Data
Parameter

HPT701

Pressure Range

0~100Pa~100Kpa

Safe overload

200% F.S.

Burst Pressure

300% F.S.

Accuracy(Linearity hysteresis repeatability)

0.25%F.S

0.5%F.S optional

Long Time Stability

Standard: 0.25%F.S

Working Temp

-10℃~80℃

Storage Temp

-10℃~80℃

Temperature

compensation

-10℃~80℃

Zero Point Temp Drift

≤±0.5%F.S/℃

Full Scale Temp Drift

≤±0.1%F.S/℃

Zero Error

≤±0.5%F.S

Total Error

≤±0.75%F.S

Medium compatible

Air or non-corrosive gas

Electronic Wire

2 Wires RS485 optional

Output

4~20mA 0~5V,0-10V,0.5-4.5V,RS485 optional

Power Supply

24 ~ 30 V DC

Electronic connection

Fixed cable and water proof IP65

Pressure connect port

M10*1.5 male thread

Response time

<1s

Adjustment

Support local zero and span calibration.

Pressure Type EMC

Differential pressure (Gage pressure)

Standard

Approving

Weight

Around 0.25KG (excluding package)
Related Products
Inquiry
Please complete form below to request a quote for Pressure Sensors.