HR80G 80GHz FMCW Radar Level Transmitter For Liquids And Soilds
80ghz radar level transmitter (80ghz radar) is a product developed based on FMCW technology, so it has the advantages of strong penetrating power and high frequency bandwidth (76-81GHz), and is not affected by temperature, dust or steam influence, it is often used for liquid, solid or powder measurement.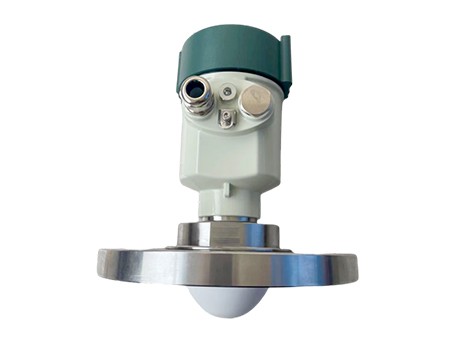 Application :
●Various shapes of chemical tanks or mixing tanks
●Incinerator
●Small or large storage tank
●Narrow environment or guided wave pipeline measurement
●High-precision metering applications
Advantages
012-wire 80GHz FMCW Radar for liquids and bulk solids.
02Not affected by temperature, dust or steam, suitable for harsh working conditions.
03Using standard HART, RS485 and MODBUS protocols, the applicability is wider.
04Support server software and tank meter settings, making the operation easier.
05Free technical support, radar level sensor manufacturer.
Resources
Technical Data
Parameter

HR80G

Frequency

76GHz ~ 81GHz,  5GHz FMCW bandwidth

Measuring range

0.3~60m(For solids) 

0.08~30m(For liquids)

0.6m~120m (For solids and liquids)

Measurement accuracy

±1mm;±2mm

Beam angle

3°;6°

Dielectric constant range

≥2

Power

18~28Vdc;220VAC

Communication

MODBUS;  HART optional

Signal output

4 ~ 20mA or RS-485

Field operation/ programming

128 × 64 dot matrix display / 4 buttons;PC software

Enclosure

Aluminum alloy, stainless steel

Antenna type

Lens antenna/anti-corrosive antenna / flange isolated by quartz

Process temperature/Humidity

-40~85℃/≤95%RH

Process pressure

-0.1~1.6MPa

Product Size

Ø100*270mm

Cable entry

M20*1.5

Recommended cables

AWG18 or 0.75mm²

Protection class

IP67

Installation method

Thread or flange

Weight

2.480Kg/2.995Kg
Related Products
Inquiry
Please complete form below to request a quote for Level sensorsRadar Level Measurement.