HR2000 80GHz High Accuracy Radar Level Sensor
The HR2000 is a 80GHz mmWave radar level sensor. Its advanced radar technology and user-friendly PC interface ensure precise measurements, high sensitivity, and seamless integration. This non-contact sensor offers contamination-free, low-maintenance level monitoring solutions. Its compatibility with control systems allows for effortless integration into industrial processes, enabling remote monitoring and control, ideal for various industrial applications.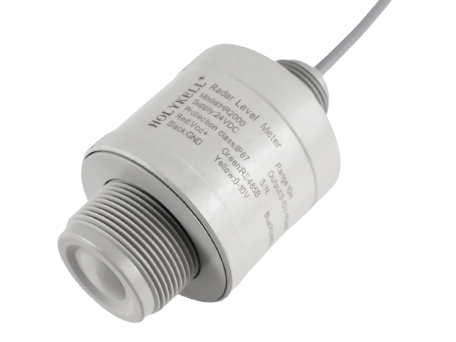 Application:
●Water & Sewage treatment
●Oil & gas industry
●Hydrological monitoring
●Pharmaceutical industry
●Food and beverage manufacturing
●Chemical industry
●Process control
Advantages
01±2mm/5mm/10mm accuracy with a wide detection range
02Advanced radar technology, unaffected by condensation, rain, vapor, corrosion, dielectric constants...
03Easily connects to host computers & tank-side meters with dedicated software
04A wide power supply range and minimized power consumption
05A top-mounted bubble level design for straightforward setup
06On-site calibration not required
Resources
Technical Data
Working pressure

-1~3bar

Measuring range

0.2-10m

Measurement accuracy

Distance measuring accuracy: ±10mm(typical),

±2mm/±5mm(customized)

Scanning frequency

76-81GHz

Signal output

0-5V+RS485 MODBUS RTU;

0-10V+RS485 MODBUS RTU;

4-20mA+RS485 MODBUS RTU optional

Power Supply

12-30Vdc(Typical type)

3.3-4.2Vdc(Low voltage & low power consumption type)

Working temperature

-40~85℃

Protection class

IP67/IP68(3 bar) optional

Material of wet parts

PVDF(Anti-corrosion type)

Material of housing

PA6 nylon + Fiberglass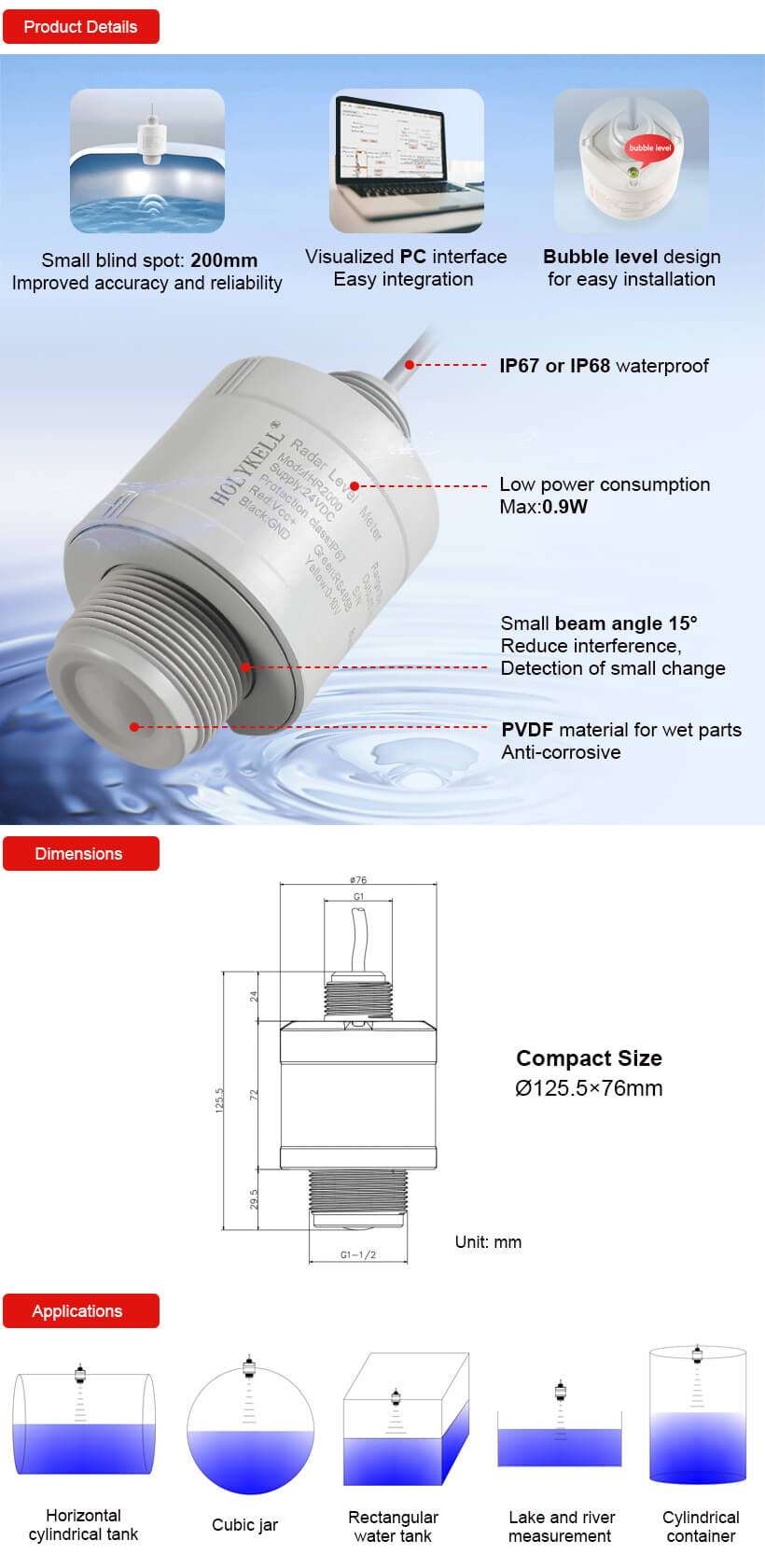 Related Products
Inquiry
Please complete form below to request a quote for Level sensorsRadar Level Measurement.