PS300 Electronic Pressure Switch
The electronic pressure switch is an intelligent product with LED display. It features functions of both pressure detection and control. The isolation-based silicone oil-filled diaphragm is used as a sensing component. It has the advantages of high precision, small size, easy operation and simple installation. It is widely used in pressure control and automatic process control systems in chemical, mechanical and electrical systems.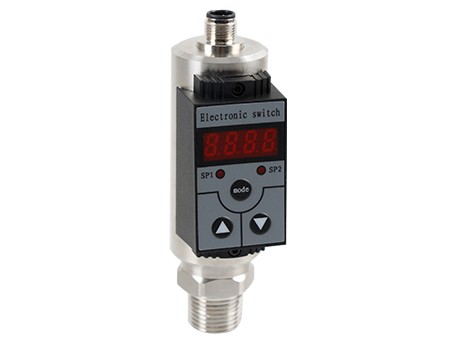 Application :
● Hydraulic pressure controller
● Industrial automation control
● Tank Liquid Level Control
● Petrochemical industry
● High pressure monitoring
● Automatic detection system
Advantages
01It uses isolation silicone oil-filled diaphragm as the sensing component with high accuracy.
022 channels switch output, load capacity of 1.2 A.
03Pressure interface can rotate 330 °, which is convenient to use.
04Equipped with node action leds, convenient for observation.
Resources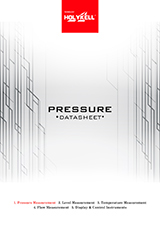 Technical Data
Model:

PS300S/ PS300M/PS300A1/PS300R

Pressure Range:

-1 Bar-1 Bar; 0-0.1 Bar.....1000 Bar / 0-2 Psi…15000 Psi Optional

Pressure Type:

Gauge pressure; Absolute pressure; Sealed gauge pressure optional.

Safe Overload:

150% F.S.

Burst Pressure:

300% F.S.

Accuracy:

≤ ±0.5%F.S Including non-lin., rep. and hys. Optional

Display Units Accuracy:

≤ ±0.1%F.S

Display Units Span:

-1999~9999

Total Error Band:

0...50 °C max. ±0.5 %FS

-10...70 °C max. ±1.0 %FS

Long Stability:

Standard: 0.1%F.S±0.05%

Working/Storage Temp:

-20℃~80℃

Tempe Compensation:

-10℃~60℃(standard)

Medium compatible:

Compatible with 316 Stainless Steel or 1Cr18Ni9Ti stainless steel

Output:

Two switches output;

One switch with 4~20mA or RS485 as output signal;

Two switches with 4~20mA or RS485 as output signal

optional

Power Supply:

12~32V DC

Switch type:

PNP, NPN optional

Load Resistance:

<24Vdc 1.2A

Max powerconsumption:

<1w

Zero Temp. Drift:

0.03%FS/℃(≤100kPa),  0.02%FS/℃(>100kPa)

Body materials:

304 stainless steel; 1Cr18Ni9Ti stainless steel optional

Material of diaphragm:

316L Stainless steel

Filling oil:

Silicon oil; Fluorocarbon oil (Oxygen Services)

Electronic connection:

Plug: M12 (4-poles) Type IP65; M12*1-5P; DIN43650 optional

Mechanical vibration:

±20g

Pressure connect port:

G1/4"male, G1/2"male, 1/8"NPT male, 1/4"NPT male, 1/2"NPT male and female optional. (by customized)

Dimension:

See below drawing

Water Proof:

IP65

Response time:

≤5ms

Endurance:

≥1 million cycles, 0…100 %FS at 25℃
Related Products
Inquiry
Please complete form below to request a quote for Pressure Switch.