VF Volumetric Flow Meter
Volumetric flow meter uses a fixed small volume to repeatedly measure the volume of fluid passing through the flow meter. Therefore, there must be a space that constitutes a standard volume inside the positive displacement flowmeter, which is usually called the "metering space" or "metering chamber" of the positive displacement flowmeter.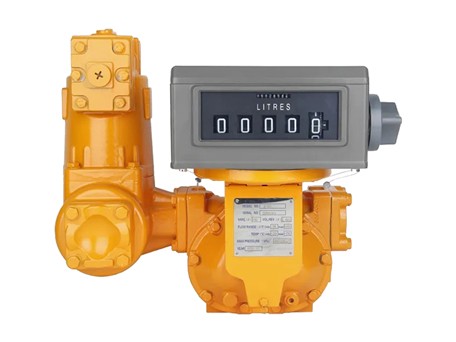 Application :
●Oil refining
●Energy metering
●Water project
●Environmental protection project
●Pipeline transportation
Advantages
01The installation environment will not affect the measurement accuracy.
02Can be used for the measurement of high viscosity liquids.
03Direct-reading meter can directly obtain accumulated flow without external energy
04The measurement range is wide, and the range ratio can reach 1:10.
Resources
Technical Data
Flow rate

M-40-1 1-1/2'' 23L-230L/min

M-50-1 2'' 38L/min-380L/min

M-80-1 3'' 76L/min-760L/min

M-100-1 4'' 130L/min-1300L/min

M-150-1 6'' 230L/min-2300L/min

Max Pressure

10Bar

Standard measure unit

Liter and US Gallon for option

Repeatability

0.05%

Type of flange

ANSI, NPT, BSPF

Strainer mesh

80Mesh for diesel, 40Mesh for gasoline
Related Products
Inquiry
Please complete form below to request a quote for Flow meters.