H5100 Digital Display Instrument With Single Loop
Digital display instrument with single-loop adopts LED dual-screen display, and can output pressure, liquid level, temperature or flow rate and other data at the same time with pressure or liquid level sensor.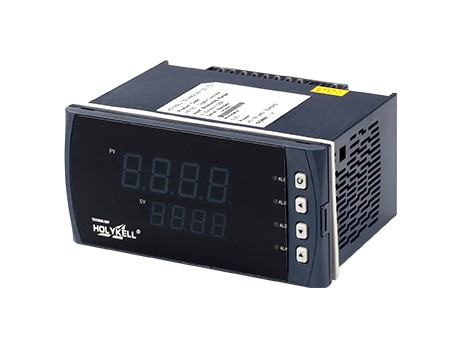 Application :
●Use with pressure, level and flow meter
●High-precision measurement
●Diesel generators
●Refinery
Advantages
01Fully automatic SMD packaging technology, stronger anti-interference ability.
02The double LED screen outputs pressure, liquid level or flow rate and other measurement data.
03With wireless sensors, a remote monitoring solution can be realized.
04Sensor accessories manufacturer, one-stop solution.
Resources
Technical Data
Input

Input signals

Current

Voltage Resistance Thermocouple

Input Impedance

≤250Ω

≥500KΩ

Maximum input current

≤30mA

≤6V

Output

Output signals

Current

Voltage

Output load capability

≤500Ω

≥250 KΩ

(Note: Please replace the module for higher load capacity)

Comprehensive parameter

Accuracy

0.2%FS±1 bit

Setting model

Panel touch key

parameter setting values locking;

store the setting values permanently

Display style

-1999 ~ 9999 display range

0 ~ 100% measured value lightness bargraph display;

LBD display for working state

Working environment

Ambient temperature: 0 ~ 50 ℃;

Relative humidity: ≤ 85% RH;

Far from strong corrosive gas

Power supply

AC 100 ~ 240V, (50/60HZ);

DC 20 ~ 29V

Power

≤5W

Frame

Standard snap-on

Communication

Standard MODBUS communication protocol,

RS-485, communication distance up to 1 km,

RS-232 ,communication distance up to 15 meters

Note: While with communication function, the communication converter should be a active one.
Related Products
Inquiry
Please complete form below to request a quote for Wireless IOT System.