HPT606 Submersible Sludge Level Transmitter
The submersible sludge level transmitter is specially used to measure the sludge level in river or lake water.It adopts ceramic filter design, which can filter gravel and water weeds in the medium.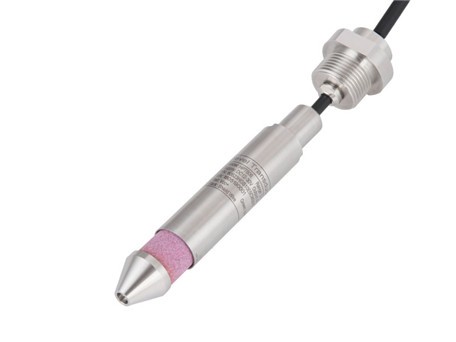 Application :
●River water level sensor
●Level measurement in rivers or lakes
●Flood monitoring/warning
●Pond water level monitoring
Advantages
01Adopts a removable ceramic filter nose without cleaning difficulty
02Running longer by reducing downtime and maintenance costs
03Low-power output signals 
04lightning surge reverse protection
05Imported chip and military grade digital PCB board
Resources
Technical Data
Range

0~1 M…200 M H2O optional

80m max for SDI-12 signal

Output

4-20mA,1-5V,0-5V,0-10V,0.5-4.5V,SDI-12,RS485 Modbus RTU

Power supply

7-30Vdc,8-30Vdc,13-30Vdc,5Vdc±5%,12Vdc,3.5-36Vdc

IP Rating

IP68

Accuracy

≤ ±0.5%F.S (Typical);   ≤ ±0.25%F.S;  ≤ ±0.1%F.S optional

Working temperature

-40-80℃(non-corrosive medium)

Temp Compensation

0°C~50°C

Zero Temp. Drift

0.2%FS/°C(≤100kPa); 0.1%FS/°C(>100kPa)

FS Temp. Drift

0.02%FS/°C(≤100kPa); 0.01%FS/°C(>100kPa)

Electronic connection

Fixed cable

Response time

≤10 ms

Certificate

CE,RoHS

Application

Flood,Lake ,River,Pond,Dams etc
Related Products
Inquiry
Please complete form below to request a quote for Submersible Level Transmitter.