HUF Portable Ultrasonic Flow Meter
The portable ultrasonic flow meter is designed based on the flow measurement method of the clamp-on ultrasonic flow meter. The measurement process does not need to damage the pipeline or contact the measurement medium. The built-in rechargeable battery can work continuously for more than 12 hours.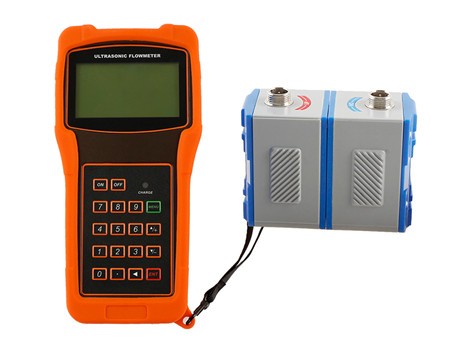 Application :
● Drinking water, river water, sea water
● Cooling water, hot water, industrial sewage
● Oil ship pump
● Lubricant, diesel, fuel, chemical liquids
● Industrial circulating water
● Diesel fuel, oil flow metering, etc
Advantages
01High accuracy: Linearity: 0.5%, repeatability:0.2%, accuracy up to ±1%.
02Non-contacting measuring: The ultrasonic flow meter will be adsorbed on the outside of pipe, and then finish the measuring. Non-intrusive, clamp-on transducer, no pressure drop, no pipe disturbance.
03Wide measuring range: Several types transducer for selection, pipe size from DN15mm to DN6000mm
04
Large capacity battery: Built-in rechargeable Ni-MH rechargeable battery, provide over 20 hours of continuous operation.
Resources
Technical Data
Linearity

0.5%

Repeatability

0.2%

Accuracy

±1% of reading at rates>0.2 mps

Response Time

0-999 seconds, user-configurable

Velocity

±10 m/s

Pipe Size

25mm-6000mm

Totalizer

7-digit totals for net, positive and negative flow respectively

Liquid Types

Virtually all liquids

Security

Setup values Modification Lockout. Access code needs unlocking

Display

4x8 Chinese characters or 4x16 English letters

Communication Interface

RS-232, baud-rate: from 75 to 57600. Protocol made by the manufacturer and compatible with that of the FUJI ultrasonic flow meter. User protocols can be made on enquiry.

Transducer Cord Length

Standard 5m x 2, optional 10m x 2

Power Supply

3 AAA built-in Ni-H batteries. When fully recharged it will last over 12 hours of operation.

100V-240VAC for the charger

Data Logger

Built-in data logger can store over 2000 lines of data

Manual Totalizer

7-digit press-key-to-go totalizer for calibration

Housing Material

ABS

Case Size

210x90x30mm

Handset Weight

500g with batteries
Related Products
Inquiry
Please complete form below to request a quote for Flow meters.